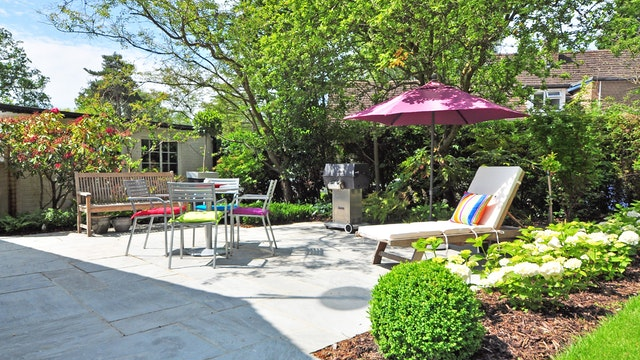 Don't have the budget to buy a recreational home? No problem! Creating a backyard oasis will help to expand your living space and help to provide with a getaway in your own backyard. A lot of savvy homeowners are now creating an outdoor living room just outside of their own backdoor. One of the biggest advantages of this is that there is zero travel time to get to your new staycation spot.
A great starting feature for your backyard cottage is a focal point with a water feature. This could be something like a hot tub, pool or pond is a great starting place. You can then add a deck, patio or private landscaping with all the features that you would find at a cottage, including stone features will replicate the Muskoka landscape in your backyard. Some other things that are currently trending with outdoor renovations in backyards are outdoor kitchens, running water, food prep counters, multi burner BBQ and warming drawers. Some might even opt for adding a pizza oven to their backyard landscape or if you are a true foodie, why not add a smoker.
Sure the summer season is very short lived in Canada, but consider these items when it comes to extending the life of your outdoor living area: natural gas, fire pits, patio heaters, fireplaces and gas lanterns. Why not extend your ability to toast marshmallows into December?
Exterior living room spaces are a perfect addition to your backyard, like a courtyard terrace or a livable outdoor room. Perhaps you could also add a wildlife corridor, secret garden, or grassy areas for impromptu lawn games. Whatever you choose to do with your backyard, know that exterior living spaces offer a superb return on investment when it comes time to sell your home. all of this can be within your reach.
Looking for some helpful tips to help increase the sale price of your home? Fill out our form for 5 inexpensive recommendations that will help give your home an instant face-lift.